[ Home Page | Twitch | YouTube | Discord ]
---
Video Jockey Main Suspect in 'Suspicious' Fire
Dec 19, 199X
by Rudiger MacLeod
CANADIA, December 3—Earlier this month, under fire video jockey FrenchToastPlease was forced to prematurely end his stream after a mysterious fire broke out in the studio.
The incident happened during one of FrenchToastPlease's World Famous Jackbox Fridays, a popular weekly event hosted on the world wide web.
Concerns were raised by viewers when an alarm was heard in the background. Mr. Toast, apparently unaware of the sound, had originally attempted to keep hosting until more contestants brought his attention to the noise.
He disappeared briefly, returning to announce that "the building was on fire" and that the stream would be ending with immediate effect.
Later that evening, Mr. Toast left a brief message on his bulletin board to say that he had survived, along with his pet cat, four krautrock records and a poster of Julie Newmar.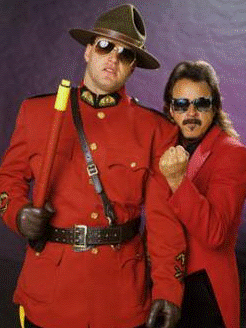 However, weeks after the incident, the local Mountie team have completed their investigation in to the fire and have confirmed they believe the blaze was started intentionally. There are suspicions that the fire originated when the host was on a lengthy losing streak.
In the past, Mr. Toast has been regularly accused of fixing the games, including the use of cheat codes, an ear-piece and purposely broadcasting in high definition to force lag upon the contestants using dial-up modems.
One officer stated that they are in the process of discussing the matter further with FrenchToastPlease.
"I remember all those months ago when I was close to winning a game of Jackbox and you stole a win out of absolute nowhere! I've been waiting a long time for this! Because I'm the Mountie! And once me and my shock stick are done with you, you really are gonna be TOAST!" Said Sgt. Rougeau, accompanied by his manager Jimmy Hart.